Overview
At local college, over 15 years ago, the Adventure Club was started for people over 50. Now we have grandparents, parents, and grandkids who show up for our various outdoor activities.
The Club has year-around events geared primarily toward active adults who enjoy a variety of outdoor activities –- especially bicycling, hiking, and kayaking/canoeing –- as well as active travelling. Our goal is to maintain physical fitness and a healthy lifestyle in a friendly, non-competitive atmosphere.
Schedule
On Tuesdays we usually bike on Pensacola Beach, Navarre Beach, Gulf Breeze or Holley-by-the-Sea. On Thursdays we usually bike in Destin, Fort Walton Beach, Valparaiso, or Niceville. On the weekends we bike, hike or kayak/canoe in locations as far east as Panama City and as far west as Fairhope, Alabama. Of course, most activities are followed by lunch or supper at a nearby restaurant, or include a picnic lunch.
Bike ride lengths averages about 10 miles with rest stops and water breaks
Thursday and Saturday rides include:
• Ft Walton Beach, meet at parking lot under Brooks Bridge
• Shalimar Lake Loraine, meet at Lutheran Church on Old Ferry Rd
• Shalimar Poquito Bayou, meet at Eglin Credit Union on Eglin Pkwy at Shalimar Bridge
• Older Destin, meet at Clement-Taylor Park on Calhoun Ave
• Destin Scenic 98, meet at church parking lot Matthews Blvd
• Niceville Bluewater Bay Subdivision, meet at Golf Course Parking
• Niceville Bayshore, meet at parking at restaurant, formerly Giuseppi's Resturant, on Bayshore Dr
• Valparaiso, meet at strip mall parking at hwy 85 / John Sims Blvd
• 30-A Bike Trail
Other Tuesday, and sometimes, Saturday, in Navarre/Pensacola Area
• Naval Live oaks
• Navarre Beach
• Holly by the Sea
• Pensacola Beach
• Ft. Pickins
• Pensacola, Eastern Downtown Area
• Milton -- Rails to Trails
Out of area rides
• Fair Hope, AL
• Orange Beach, AL
• Mobile, AL
• Old Panama City, FL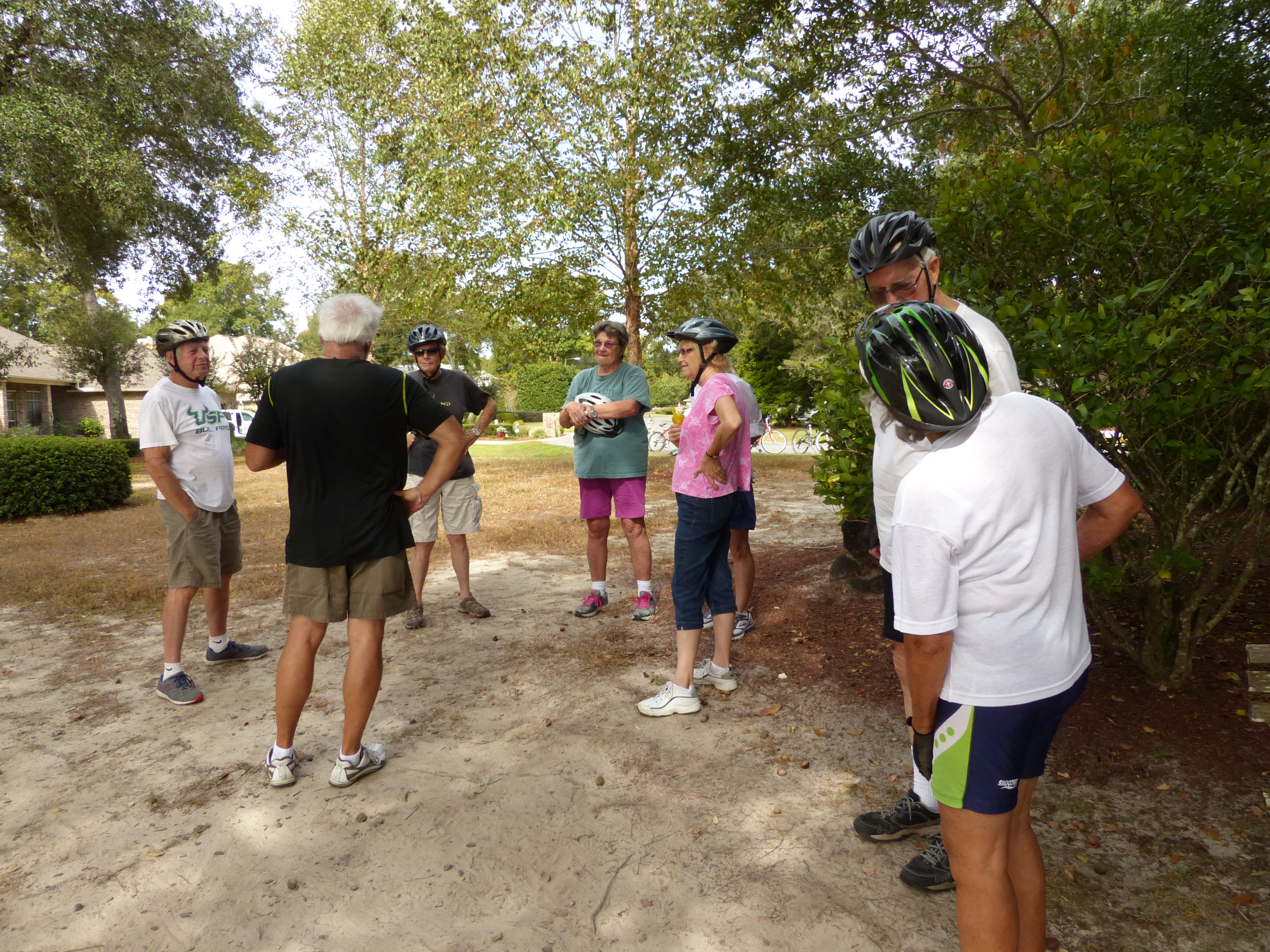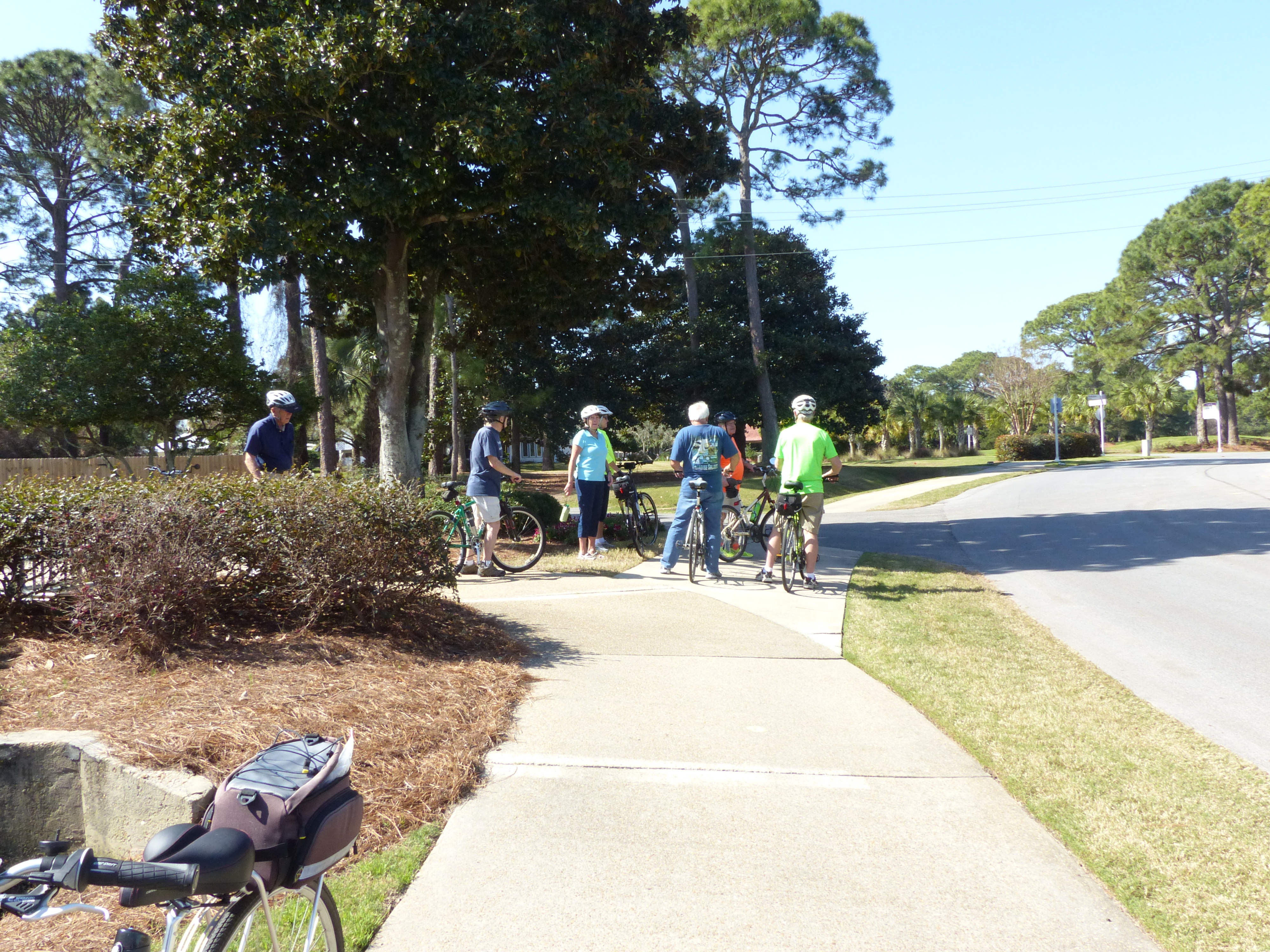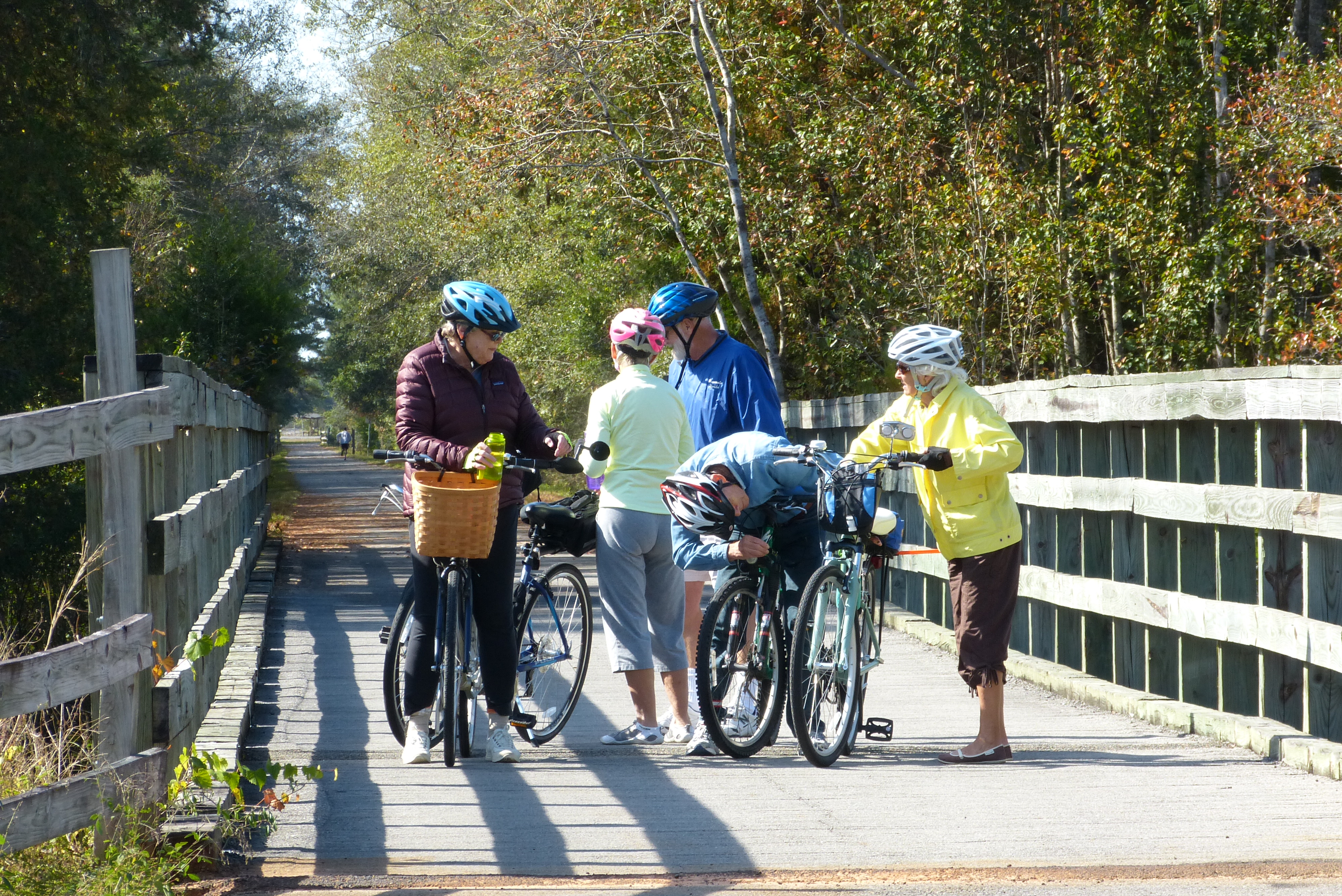 Overnight trips
• Wakulla Springs, FL
• Ceder Key, FL
• Winter Garden, FL
• New Orleans, LA
• Columbus, GA
During Hot Summer
, Kayak Trips with
Florida Trail
and
West Fl Canoe and Kayak Club
• Cold Water Creek, meet at Bob's, or Adventures Unlimited
• Juniper Creek, meet at Red Rock Rd Bridge
• Boiling Creek, meet at Hwy85/RR
• Blackwater River, meet on Hwy4
• Turkey Creek, meet at Jackson Guard on Hwy85, Niceville
Trips
Approximately four or five times per year we have "3 day-2 night" trips, within a 4 to 6 hour driving distance from our area. In past years we enjoyed this sort of trip in the following areas:
• Cedar Key, St. Marks • New Orleans • Columbus, Georgia • Callaway Gardens • Piedmont, Alabama
In the past we have adventured to Holland, Germany and Austria for several Bike and Barge trips. We've also taken cruises, explored Copper Canyon in Mexico, Peru, the Amazon, Panama, Costa Rica, the Cinque Terre and Tuscany in Italy — staying at convents and monasteries.
Contact
You do not need to be enrolled in Courses at CLL in order to join the Adventure Club; We have a monthly planning meeting on the last Wednesday of the month.
For additional information contact:
Bruce Blackwelder, (850) 301-9452, wastedawaybruce@aol.com
or
Elise White, (850) 736-3909, white.elise.m@gmail.com