History
The CLL Computer Club was organized to promote computer literacy for the CLL members and to develop a pool of instructors and teaching assistants for the computer Courses.

Meeting Place and Time
University of West Florida, Fort Walton Beach Campus, Building 3, Room 357.
See UWF Campus Map for location.
Club meets the second Tuesday of every month at 10:00 a.m. Meetings finish no later than 12 noon.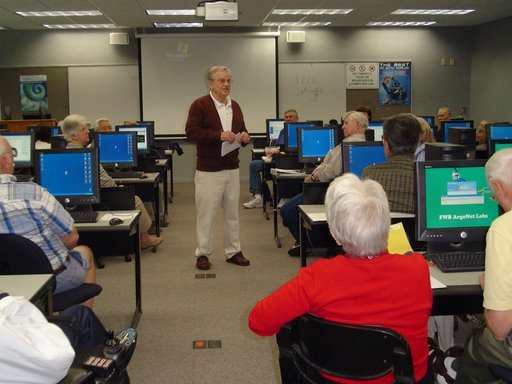 Typical Meeting
The meeting starts with a Question and Answer/problem solving session followed by a computer related presentation by either a club member or an outside guest speaker.
We do not always solve all computer problems, but we do help in sharing your pain.
Club Officers
The Club President "Lead Digerati" Jim Cooper organizes and hosts the meeting each month. The Club Secretary, Judie Day, keeps the membership list up to date and sends out announcements of upcoming meetings and handouts provided by the presenters via e-mail.
Membership
Although the Club was created for the benefit of CLL members, being enrolled in a CLL class is not a requirement for membership in the Club. There are no dues or fees.
Our Club now has 67 members (and is still growing). An average of 30 to 35 dedicated computer-users attend each session. Our membership includes locals, transplants, and snowbirds. As such, they represent a good cross section of the United States and Canada.
News: The club now has an e- mail address; you can reach us at cllcomputerclub@gmail.com